About Us
Green Apple Kids Started with 7 Kids 6 Years Ago, and Now Marching with 150+ Kids in it's First Branch Aruppukottai. Provided with the World Class Learning Facility and Healthy Growing Environment Green Apple Kids growing Faster with Your Kids. Now We can Proudly declare, the Green Apple Kids is one of the Such Place to give the Perfect Feed for the Initial Learning Ages of Your Kids.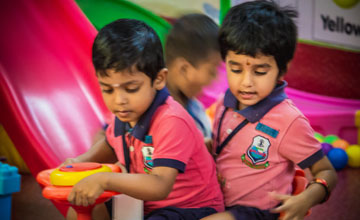 Our Mission
To Create Brightful and Cheerful Group of Kids each Year with Full of Knowledge and Confidence.
Our Vision
To Make an Revolutionary Foot Print in Early Education for Kids and to Create World Class Facility to Reach the Goal
Our Strength
This Group of High Talented, Self Esteemed Individual Motherly Teachers are the Strength of Green Apple Kids Group. With their Talented Behaviour and Motherly Nature they makes Each Kid more Perfect to be Better Person in this Society.
Testimonials
I could Feel the Real Flourishing Growth of my Daughter Srinithi after I joined her with Gren Apple Kids. Now She became Very Cheerful all the Time.
I must Say, I have taken the Right Decission by God's Grace to Put my Son in Green Apple Kids. Compared to his Previous Schools, the things he is Achivingt with GAK are Unbelievable.